JAN BRANDTS BUYS: MICAREME (MP3 download)
Jan Brandts Buys: Micareme (mp3 download)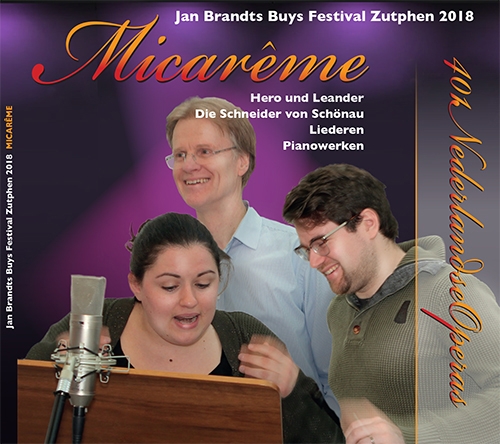 Opera Mp3 download: Micareme (1919, complete opera in 1 act)
Composer: Jan Brandts Buys
Cast: Jolien De Gendt (Junge Frau), Denzil Delaere (Der Narr), Hans de Vries (Alte Herr), 401Dutch Female Choir conducted by Frits Muusse (Amoretten), René Rakier (piano)..
Additional: Arias from Die Schneider von Schönau (Jolien De Gendt, soprano), Hero und Leander (Barbara Schilstra, soprano), songs (Hendrik Vonk, tenor), piano compositions (Jan ten Bokum)
•
Technical Info:
Genre: Hi Res MP3 download
Language: German
Subtitles: Gatefold poster booklet with full synopsis and many details on the composer and the Brandts Buys Festival 2018.
Label: 401DutchOperas
Year: 2018
Format: Hi Res MP3 download
Total Time: '76
© 2018 401DutchOperas

See the promo video for this MP3 downlaod:
•
For additional info please visit our essay here

* LET OP: DIT IS EEN MP3 DOWNLOAD !!
* NOTE: THIS IS A MP3 DOWNLOAD !!