MONIQUE KRÜS: GOD'S VIDEOTHEQUE (VIDEO DOWNLOAD)
MONIQUE KRÜS: GOD'S VIDEOTHEQUE FORMAT: VIDEO (.MP4) DOWNLOAD (THIS IS NOT A DVD, THIS IS A VIDEO(.MP4) DOWNLOAD !!)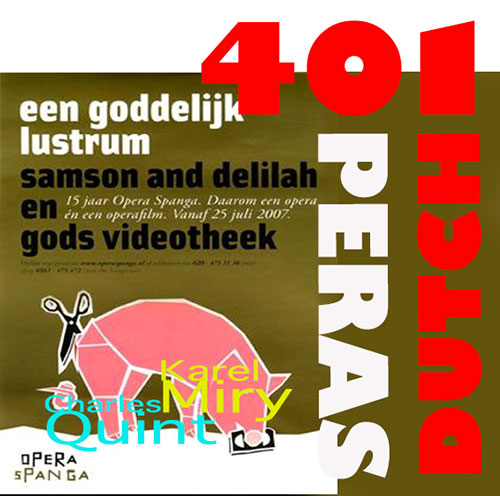 Opera: Gods Videotheek
Composer: Monique Krüs
Libretto: Irma Achten
Cast: Monique Krüs (Sofie Vandam), Wil van der Meer (Joseph Kiss, manager of God's videotheque), Klara Uleman (Hanna), Monique Krüs en Martijn Sanders (Leo Fulca, a scientist), Do van Stek (God), Magogo Chamber Orchestra o.l.v. Arjan Tien.
Regie: Corina van Eijk
Commisoned & produced: Opera Spanga
Crew: Camera (Tinus Holthuis), Decor (Jolanda Lanslots), Costumes (Pieter van Rooy), Make-up (Saskia Ellemeet), Sound production (Patricia Boogaard), Movie production (Juri Keuler).
World Premiere: 25 July 2007 (subsequent performances July/August)
•
Technical Info:
Genre: Opera Movie
Language: English
Subtitles: Nederlands (Dutch)
Label: Opera Spanga
Year: 2007
Format: .MP4 Video / 16:9 / PAL Color
Subtitles format: .srt
Resolution: 1024 x 576 (25 fps)
Total time: 1:10'
© 2007 Opera Spanga
•
For additional info on the Gods Videotheek Movie please visit our essay here
For additional info on Opera Spanga please click here
Additional info on Monique Krüs here
Additional info on Klara Uleman coming soon
Additional info on Wil van der Meer coming soon
Additional info on Martijn Sanders coming soon
Additional info on Do van Stek coming soon
* LET OP: DIT IS EEN MP4 DOWNLOAD! Download links worden zichtbaar na bestelling. Deze links worden pas geactiveerd na betaling.
* NOTE: THIS IS AN MP4 FORMAT DOWNLOAD! Download links will be shown upon ordering. These links will be activated upon payment.