HENK SMIT (1932-2010) 3CD SET IMC MUSIC LTD VOLUME II
HENK SMIT (1932-2010) 3CD SET IMC MUSIC LTD VOLUME II FORMAT: MP3 DOWNLOAD (THIS IS NOT A CD, THIS IS A MP3 DOWNLOAD !!)

HENK SMIT (1932-2010) 3CD SET IMC MUSIC LTD VOLUME II
INCLUDES: FULL CD BOOKLETS IN .PDF
Format: MP3 DOWNLOAD (THIS IS NOT A CD, THIS IS A MP3 DOWNLOAD !!)
Genre: Opera

Language: Italian German, Dutch

Label: 
IMC MUSIC LTD
Year: 1973/2000
Release date: 2012
Format: MP3 (320 kbps)
Total Time: 75.29, 79.02, 77.59
Source: Remastered form Henk Smit's archive
Producer & compilation: Walter Knoeff
© 2012 IMC MUSIC LTD/Erven Henk Smit
---
PRODUCT DESCRIPTION
HENK SMIT (1932-2010) 3CD SET IMC MUSIC LTD VOLUME II (3CD SET IN MP3 FORMAT IMC MUSIC LTD 1001.1, 1001.2, 1001.3)
In memory of the great Dutch Bass Henk Smit, who passed away on July 17, 2010, 401DutchDivas.com presents the exclusive download version of this unique IMC MUSIC LTD CD-set, in direct license from Henk Smit's heirs.
CD 04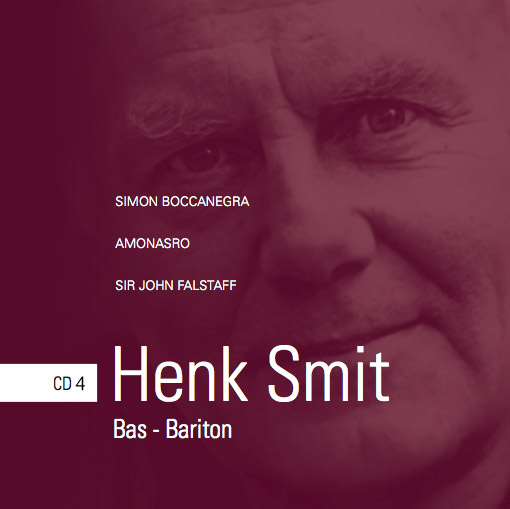 © 2012 CD IMC MUSIC LTD 1001.4 (Excerpts)
VERDI: FALSTAFF (DEEL II)
01 ACT II–2 "Facciamoi parentado… Tutto nel mondo e buria" 6.51 
Sir John Falstaff: Henk Smit, Ford: Elia Padovan, Fenton: Ramon Vargas, Dottore Cajus: Nico Schaap, Alice Ford: Kathleen McCalla, Nannetta: Andrea Rost, Meg Page: Deborah Beronesi, Mrs. Quickly: Joke de Vin, Bardolfo: Henk Kreukniet, Pistola: Lieuwe Visser, Forum Filharmonisch –  Gabriele Bellini
Enschede, Twentsche Schouwburg, 9 november 1990
BORODIN: VORST IGOR
02. ACT I Recitatief en Cavatina: "Langzaam eindigt de dag.. .Ach, waar ben je?" 9.14
Henk Smit: Vorst Igor, OO –  Henry Lewis
Utrecht, Vreedenburg, 10 februari 1982
MUSSORGSKY: BORIS GODUNOV
03. Lied van de waardin: "Ik heb eens een grijze woerd gevangen". 2.22 03.
04. "Vrouw, vrede heerse in uw huis" 2.30
05. "Het gebeurde bij de stad Kazan" 2.19
06. "Zeg waarom doe jij niet mee?" 8.46
07. "Ik kan lezen" 4.37 
Waardin: Enid Hartle, Varlaam: Henk Smit, Missail: Alexander Oliver, Grigori: Justin Lavender, Officier: Hubert Waber, RFO – Edo de Waart
Amsterdam, Concertgebouw, 27 november 1982
MUSSORGSKY: SONGS AND DANCES OF DEATH
08. Trepak 4.60
09. Wiegenlied 4.35
10. Serenade 4.48
11. De Generaal 5.40 
Henk Smit, OO – Edward Downes
Concertgebouw Amsterdam, 10 january 1981
TCHAIKOVSKY: DE MAAGD VAN ORLEANS
12. ACT II Scene en duet: "Vertel me Dunois.. .Wat moet ik doen?" 6.55
Koning Karei VII: William Cochran, Dunois: Henk Smit, Agnes Sorel : Mary Willems, RSO – Henry Willems
Utrecht, Vredenburg, 16 februari 1986
HUMPERDINCK : HANSEL UND GRETEL
13. "Ral-la-la-la, ral-la-la-la, heisa Mutter, ich bin da!" 12.10
Der Vater: Henk Smit, Die Mutter: Christa Pfeiler, RFOH –Claus Peter Flor
Utrecht, Vredenburg, 20 december 1998 
•
TT 75.49 
CD 05
© 2012 CD IMC MUSIC LTD 1001.5 (Excerpts)
PUCCINI: EDGAR
01.A CT I "Ove fosti stanotte?...Questo amor, vergogna mia" 5.16 
Frank: Henk Smit, Tigrana: Julia Hamari, OO – Hans Vonk
Utrecht, Vredenburg, 21 december 1978
PUCCINI: TOSCA
02. ACT I "Tosca Divina" 6.35
03. "Tre sbirri, una carozza..." 4.33
Tosca: Carol Neblett, Scarpia: Henk Smit, RFO – Lawrence van Reness Amsterdam, RAI 1999
04.  ACT II "Tosca e un buon falco!"                    
05. "Meno male"                          
06. "Orsu, Tosca, parlate"          
07. "Vissi d'arte"                          
08. "Vedi, Ie man giunte io stendo a te!"
09. "Tosca, finalmente mia!"
Tosca: Martina Arroyo, Vladimir Popov: Cavaradossi, Henk Smit: Scarpia, Andre Spijker: Spoletta, Jan Polak: Sciarrone, APO –Bohumil Gregor
 Amsterdam, Stadsschouwburg, 17 mei 1985
PUCCINI: LA FANCIULLA DEL WEST
10. ACT I "Ti voglio bene, Minnie"..."Minnie, dal mia casa son partito" 4.22
Minnie: Karan Armstrong, Jack Rance: Henk Smit, RFO – Bohumil Gregor
Scheveningen, Circustheater, 22 oktober 1981
DEBUSSY: PELLEAS EST MELISANDE
11. ACT I "Je ne pourrai plus sortir de cette foret" 6.12
12. "Qu'est-ce qui brille ainsi, au fond de l'eau ?" 4.50
•
TT 73.36
CD 06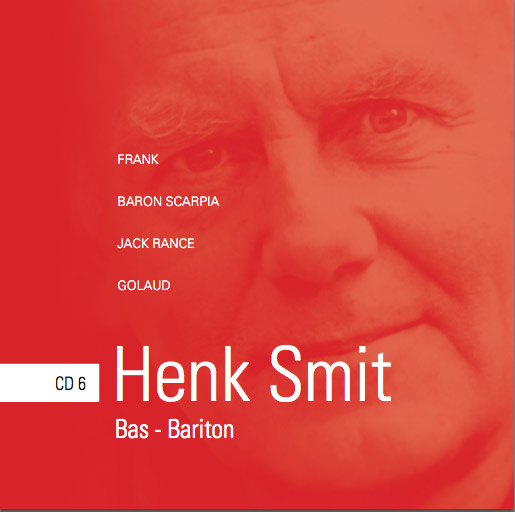 © 2012 CD IMC MUSIC LTD 1001.6 (Excerpts)
DEBUSSY: PELLEAS EST MELISANDE
01. SCENE II "Ah !Ah ! Tout va bien, ce la ne sera rien" 2.53
02. "Je suis...je suis malade ici" 8.62
03. ACT III "Que faites-vous ici ?" 4.28
04. "Prenez garde ; par ici, par ici !" 2.33
05.  "Ah ! Je respire enfin !" 5.15
06. "Viens, nous allons nous asseoir ici, Yniold" 6.25
07.  "Ah !Ah ! Petite mere a allume sa lampe" 3.40
08. ACT IV "Pelleas part ce soir" 0,59
09.  "Apporte-la" 6.19
10. ACT V "Melisande.. .Melisande..." 19.30
11. "Est-ce vous, Golaud ?" 5.25 
Didier Henry: Pellas, Nellei van der SIjde: Melisande, Henk Smit: Golaud, Neven belamaric: Arkel, Mirjam Cornelisse: Yniold,  Forum PO – Kasper de Roo
Enschede, Twentsche Schouwburg, 1 januari 1992
D'ALBERT: TIEFLAND
12. ACT I "Marta"..."Tu mit mir, was du willst..." 5.25
13. "Er wil kein Stutzersein! 3.21
14. ACT II "Recht guten Tagl Was gibt es neues? 3.26
15. "Was wollt Ihr, he?" 4.04
16. "Da bin ich, und ich entreiss sie dirl 1.55 
Marta: Rosanna Rocca, Sebastiano: Henk Smit, Pedro: Heinz Meyen, Tommaso: Guus Hoekman, Nuri: Karin Ostar, OO –  Kenneth Montgomery
Hilversum, KRO Studio 1, 27 januari 1980 
•
TT 78.58
---
MP3 DOWNLOAD*
HENK SMIT (1932-2010) 3CD SET IMC MUSIC LTD VOLUME II
* Downloadlinks worden zichtbaar na bestelling. Deze links worden pas geactiveerd na betaling.