SAMSON AND DELILAH (VIDEO DOWNLOAD)
SAMSON AND DELILAH FORMAT: VIDEO (.AVI) DOWNLOAD (THIS IS NOT A DVD, THIS IS A VIDEO(.AVI) DOWNLOAD !!)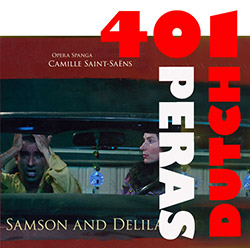 Opera: Samson and Delilah
Composer: Camille Saint-Saëns
Libretto:Ferdinand Lemaire
Cast: Samson (Charles Alves da Cruz), Delilah (Klara Uleman (NL)) , High Priest (Peter Michailov), Abimelech (Murad Amirkhanian), Old General (Vincent Le Texier), Messager (Charlotte Besijn; voice : Maaike Widdershoven (NL)), Philistine 1 (Wil v.d.Meer (NL)), Philistine 2 (David Levi), Orchestra Aukso Poland, Chorus Camerata Silesia The Katowice City Singers' Ensemble (PL), David Levi (conductor).
Director/Producer: Corina van Eijk
Crew: Camera (Tinus Holthuis), Art Direction (Jolanda Lanslots), Costumes (Pieter van Rooy), Make-up (Saskia Ellemeet), Editor (Synco Schölvinck), Sound production (Attie Bauw)
•
Technical Info:
Genre: Opera Movie (A real movie, not a filmed stageing!!)
Language: French
Subtitles: Nederlands (Dutch), English, Deutsch, Frisian, Espagnol, Polski
Label: Opera Spanga
Year: 2007
Format: .AVI Video / 16:9 / PAL Color
Subtitles format: .srt
Resolution: 720 x 406 (25 fps)
Total time: 1:40'
© 2007 Opera Spanga
•
For additional info on the Samson and Delilah Movie please visit our essay here
For additional info on Opera Spanga please click here
* LET OP: DIT IS EEN AVI DOWNLOAD! Download links worden zichtbaar na bestelling. Deze links worden pas geactiveerd na betaling.
* NOTE: THIS IS AN AVI FORMAT DOWNLOAD! Download links will be shown upon ordering. These links will be activated upon payment.