HENK SMIT (1932-2010) 3CD SET IMC MUSIC LTD VOLUME I
HENK SMIT (1932-2010) 3CD SET IMC MUSIC LTD VOLUME I FORMAT: MP3 DOWNLOAD (THIS IS NOT A CD, THIS IS A MP3 DOWNLOAD !!)

HENK SMIT (1932-2010) 3CD SET IMC MUSIC LTD VOLUME I
INCLUDES: FULL CD BOOKLETS IN .PDF
Format: MP3 DOWNLOAD (THIS IS NOT A CD, THIS IS A MP3 DOWNLOAD !!)
Genre: Opera

Language: Italian German, Dutch

Label: 
IMC MUSIC LTD
Year: 1973/2000
Release date: 2012
Format: MP3 (320 kbps)
Total Time: 75.29, 79.02, 77.59
Source: Remastered form Henk Smit's archive
Producer & compilation: Walter Knoeff
© 2012 IMC MUSIC LTD/Erven Henk Smit
---
PRODUCT DESCRIPTION
HENK SMIT (1932-2010) 3CD SET IMC MUSIC LTD VOLUME I (3CD SET IN MP3 FORMAT IMC MUSIC LTD 1001.4, 1001.5, 1001.6)
In memory of the great Dutch Bass Henk Smit, who passed away on July 17, 2010, 401DutchDivas.com presents the exclusive download version of this unique IMC MUSIC LTD CD-set, in direct license from Henk Smit's heirs.
BOX 1 (CD 1–3)
CD IMC MUSIC LTD 1001.1, 1001.2, 1001.3
© 2012  
CD 01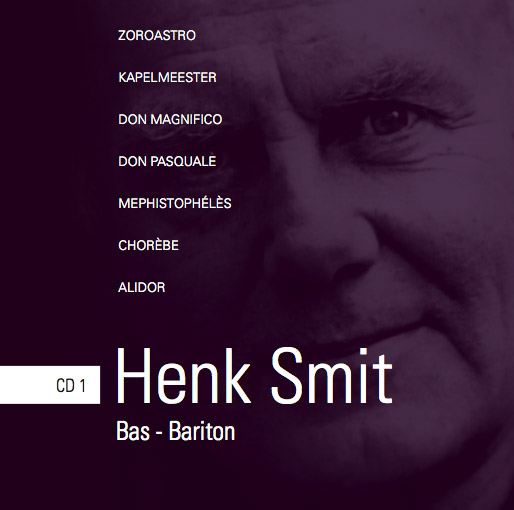 HANDEL: ORLANDO
01. Recitatief: "Impari ognun da Orlando"
02. Aria: "Sorge infausta una procella"
Zoroastro: Henk Smit, RKO – Kazimierz Kord
Scheveningen, Circustheater, 5 mei, 1978 
CIMAROSA: IL MAESTRO Dl CAPELLA
03. Opera intermezzo in een akte 
Henk Smit (De Kapelmeester), APO
Arnhem, 4 november 1975
ROSSINI: LA CENERENTOLA
04. Duetto: "Un segreto d'importanza"
Dandini: Stuart Harding, Don Magnifico: Henk Smit, RKO – Diego Masson
Amsterdam, Stadsschouwburg, 11 september 1980
DONIZETTI: DON PASQUALE
05. Duetto: "Questa repentina chiamata"
06. "Cheti cheti immantinente"
07. "Aspetta, aspetta, cara sospina" (Malatesta/Don Pasquale)
Malatesta: Geoffrey Dolton, Don Pasquale: Henk Smit, LSO – Junichi Hirokasmi
Maastricht, 18 november 2000
BERLIOZ: LA DAMNATION DE FAUST
08. "Vrai Dieu, messieurs, votre fugue est fort belle"                   
09. Chansons de Mephistopheles: "Une puce gentile"                    
10. Air de Mephistopheles: "Voici des roses" (Mephistopheles/Choeur/Faust)
11. Serenade de Mephistopheles: "Maintenant...Devant la maison"
Faust: Jon Garrison, Mephistopheles: Henk Smit, GOK, RFO – Jean Fournet
Utrecht, Muziekcentrum Vredenburg, 8 April 1990
BERLIOZ: LES TROYENS (LA PRISE DE TROIE)
12. Duo Act I: "Chorebe… C'est lui!"
Cassandre: Karen Armstrong, Chorebe: Henk Smit, RFO – Edo de Waart
Amsterdam, Concertgebouw, 5 juni 1993
LISZT: DON SANCHE OU LE CHATEAU DE L'AMOUR
13.  Air: "Vainement vous voulez me fuir" (Alidor)
RSO – Jacques Mercier
CD 02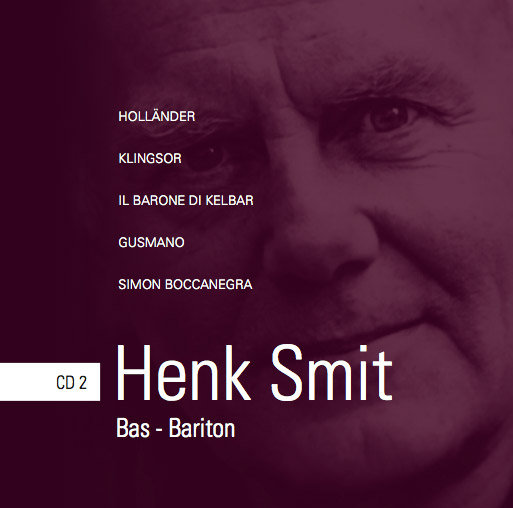 WAGNER: DER FLIEGENDE HOLLANDER
01. Monolog des Hollander: "Die Frist ist um" 11.31
RSO – Kees Bakels
Concertgebouw, Amsterdam, 21 september 1995
WAGNER: PARSIFAL
02. ACT II Orchestervorspiel 2.30
03. "Erwachst du? Ha!" 10.43
04. "Jetzt schon erklimmt er die Burg" 4.04 
Kundry: Gabriele Schnaut, Klingsor: Henk Smit, RFO – Edo de Waart
Amsterdam, Concertgebouw, 17 april 1992
VERDI: UN GIORNO Dl REGNO
05. Recitativo e Duetto: "Un mio castello! Cinque mila scudi!" 8.51 
Gasparo Antonio La Rocca (Tesoriere): Jan Derksen, II Barone di Kelbar: Henk Smit, OO – Anton Kersjes
Amsterdam, Concertgebouw, 16 maart 1974
VERDI ALZIRA
06. ACT I Scena e Cavatina: "Alta cagion quiu v'assembrava..." 2.04
07. "Eterna la memoria" 3.03
08. Stretta: "Quanto un mortal puo chiedere" 3.15
09. ACT II Scena e Duetto: "Guerrieri, al nuovo di..." 2.16
10. "II pianto.J'angoscia..." 5.02
11. "Colma di gioia ho l'anima!" 2.33
12. Coro d'Ancelle: "Tergi del pianto America" 2.05
13 Scena ed Aria finale: "Prodi figli d'lberia" 0.59
14. "E'dolce la tromba" 2.27
15. "Altre virtudi, insano" 5.41
Alzira: Cristina Deutekom, Zamoro: Adriaan van Limpt, Gusmano: Henk Smit, Alvaro : Guus Hoekman, Otumbo : Hein Meens, Ata li ba: Lieuwe Visser, Zuma: Thea Vermeulen, OO – Kees Bakels
Amsterdam, Concertgebouw, 11 october 1980
VERDI: SIMON BOCCANEGRA (Deel 1)
16. ACT I Scena e Duetto:"Dinne, perche in quest'eremo" 1.48
17. "Orfanella il tetto umile" 6.13
18. "Figlial A tal nome io palpito" 3.49 
Henk Smit: Boccanegra,  Pieter van den Berg: Fiesco,  Cristina Deutekom: Amelia,  Adriaan van Limpt: Gabriele, OO –Kees Bakels
Amsterdam, Stadsschouwburg, 4 september 1982
CD 03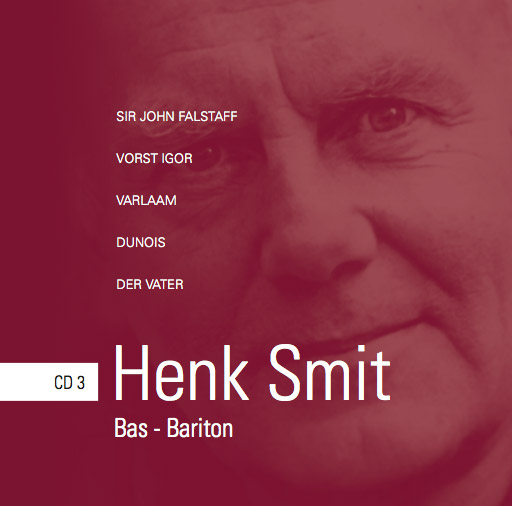 © 2012 CD IMC MUSIC LTD 1001.3 (Excerpts)
VERDI: SIMON BOCCANEGRA (Deel 2)
01. ACT I PART 2 "Messeri, il re di Tartaria vi porge" 7.08
02. "Feresci"...Amelia!" 3.27
03. "Plebe! Patrizi!" 5.50 
Henk Smit: Boccanegra,  Pieter van den Berg: Fiesco,  Cristina Deutekom: Amelia,  Adriaan van Limpt: Gabriele, OO –Kees Bakels
Amsterdam, Stadsschouwburg, 4 september 1982
VERDI: AIDA
04. Duet Aida/Amonasro (fragment) 4.36 
Aida: Marijke van der Lugt, Amonasro: Henk Smit
(1960s? Possibly 1973,06.25)
VERDI: FALSTAFF (DEEL 1) 
05. ACT I " Falstaff!.. .0 la!" 5.55
06. "So che se andiam, la notte" 1.49
07. "Ma e tempo d'assottigliar l'ingegno" 3.54
08. "L'onorel Ladri!...lo stesso, si, io, io" 4.14
09. ACT II "Siam pentiti e contriti" 1.11
10. "Reverenzal" 5.34
11. "Va, vecchio John" 1.39
12. "Signore, v'assista il cielol" 3.04                    
13. "Ve lo diro. C'e a Windsor una da ma" 5.58
14. "Lo conoscete?...ll diavolo se lo port all'inferno" 1.27
15. "E sogno? O realta?" 4.40
16. "Eccomi qua. Son Pronto" 2.06
17. "Alfin t'ho colto, raggiante" 3.46
18. "Quand'ero paggio del Duca di Norfolk" 1.30
19. "Altole" 6.21
20. "Un poco di pausa" 3.49 
Sir John Falstaff: Henk Smit, Ford: Elia Padovan, Fenton: Ramon Vargas, Dottore Cajus: Nico Schaap, Alice Ford: Kathleen McCalla, Nannetta: Andrea Rost, Meg Page: Deborah Beronesi, Mrs. Quickly: Joke de Vin, Bardolfo: Henk Kreukniet, Pistola: Lieuwe Visser, Forum Filharmonisch –  Gabriele Bellini
Enschede, Twentsche Schouwburg, 9 november 1990
•
TT 77.59
---
MP3 DOWNLOAD*
HENK SMIT (1932-2010) 3CD SET IMC MUSIC LTD VOLUME I
* Downloadlinks worden zichtbaar na bestelling. Deze links worden pas geactiveerd na betaling.